2 GALLON AIR COMPRESSOR RECALL
RECALL HOTLINE: 1-855-922-2300
from 9 a.m. to 5 p.m. CST Monday through Friday
MAT Industries, LLC Recalls Air Compressors Due to Electrical Hazard
Name of Product: 2 Gallon, 120-volt Air Compressors
Importer: MAT Industries, LLC, of Long Grove, Illinois
Hazard: The internal terminals of the pressure switch can come in contact with the motor housing causing electrification of the air compressor, posing a shock hazard to consumers.
Incidents/Injuries: None reported.
Remedy: Consumers should immediately stop using the recalled air compressors and contact MAT Industries for a free repair.
Sold at: The Home Depot, Menards and other stores nationwide from June 2010 through October 2013 for between $80 and $120.
Manufactured in: China.
Description: This recall involves Powermate® and HDX™ brand two-gallon air compressors. Powermate® model numbers include VSP0000201, VSP0000201.01, VSP0000201.KIT and VSP0000201.NS with numeric serial numbers. HDX™ model numbers/sku numbers include VSP0000201.HDX, VSP0000201.HDX1, 947282 and 747790 with numeric serial numbers. The model and serial numbers are printed on a sticker on the air compressor. Each air compressor has a pair of one-gallon tanks that are stacked upon each other. The air compressors are 120-volts, have an operating pressure maximum of 100 PSI and air delivery of .4 SCFM at 90 psi. The Powermate® air compressors are red with Powermate printed in white on the top cylinder. The HDX™ air compressors are gray with HDX printed in white on the top cylinder.
Check Your Air Compressor Serial Number: If your Powermate or HDX serial number DOES NOT begin with the letters U0RW, HDX or PM it is subject to the recall. Example: Serial number 158380061039 would be subject to recall, but serial number U0RW23285263 would NOT be subject to the recall.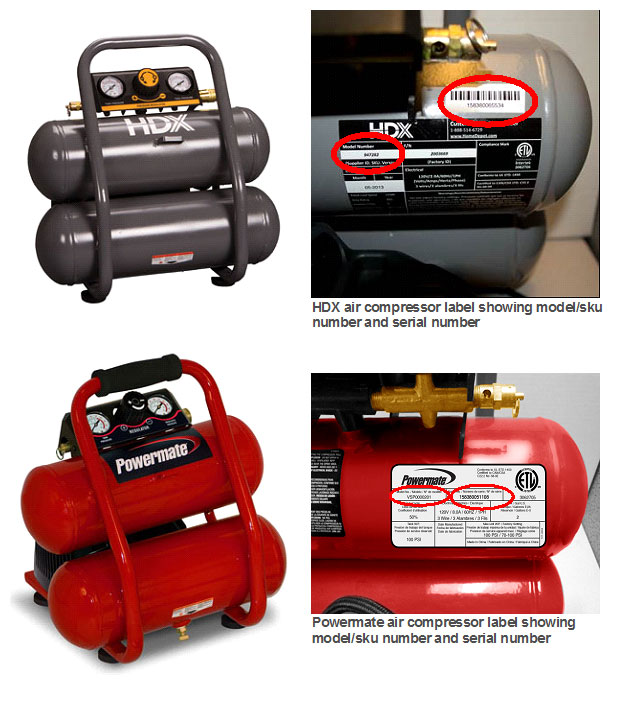 Consumer Contact: MAT Industries, LLC at (855) 922-2300 from 9 a.m. to 5 p.m. CST Monday through Friday.
This recall is in cooperation with The U.S. Consumer Product Safety Commission. Consumers should stop using the recalled product immediately unless otherwise instructed. It is illegal to resell or attempt to resell a recalled consumer product.
Recall Hotline: 1-855-922-2300
MAT Industries, LLC © 2014